What's happened to Comvita Manukacare honey for wounds
11 May 2014 | Admin
The long time UK favourite manuka honey product for external use on wounds and leg ulcers etc - Comvita Manukacare - has been discontinued. Manukacare has always been a product named / branded just for the UK due to rules around products for medical use. (In New Zealand it was called 'Comvita Woundcare' but that name couldn't be used in the UK).
As Comvita also owns the Medihoney brand name, and supplies their medical grade honey for products under the Medihoney name, they have had a bit of a re-organisation as to which particular product names and items to continue producing. Manukacare has recently been stopped.
However, there is still a 100% sterilised medical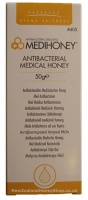 grade honey product available - the Medihoney Antibacterial Medical Honey - also in a 50g tube (same as Manukacare was).
The honey is still supplied from Comvita's specialist apiary (beekeepers) in New Zealand that produces their medical grade honey, though the sterilisation process and final packing does now happen in Canada.
We have already cleared through any remaining stock of tubes under the Manukacare name. But do have plenty of stock under the Medihoney Antibacterial Medical Honey name.
Thus if you've previously used the Manukacare product on a leg ulcer or wound and are looking for it again, or you are a new potential user who has read about the positive wound healing abilities of Manukacare, the equivalent product is now the Medihoney branded one. You can find it here: