Bananas Love Manuka Honey - 11 Delicious & Useful Recipes
6 June 2014 | Admin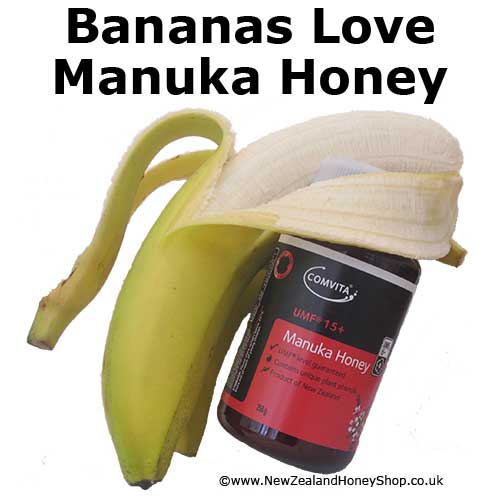 Delicious & Useful Recipes
Bananas and Manuka honey go really well together. There are all sorts of food recipes, as well as homemade natural skincare where they make wonderful joint ingredients. Here are 11 ideas. Mostly food, but also a couple of skincare ideas too.
1. Simple Banana and Manuka Honey Smoothie
Uses: 1 banana, 1/2 pint milk, 1-2 tblsp of manuka honey
Put the (peeled and sliced) banana, milk and honey in a blender and blend until smooth. Pour into a glass, and enjoy straightaway. If on a hot day you want a cold smoothie, simply add some ice cubes into the mix at the start as well.
2. Berry Banana Honey and Yoghurt Smoothie
Uses: 1 banana, 1/2 cup fresh seasonal berries, 1 cup vanilla yoghurt, 1-2 tblsp of manuka honey
Peel and slice the banana, wash and shake dry the berries, then combine with the rest of the ingredients in a blender and blend until smooth. Pour into a glass, and enjoy immediately.
3. Simple Breakfast or Dessert Topping
Whether cereal or porridge for breakfast, or ice cream, apple pie, pancakes or a multitude of other desserts, bananas and manuka honey make a wonderful topping.
Use: 1 banana and 1 tblsp of manuka honey per person
Once the breakfast or dessert is in its serving bowl, for each bowl slice 1 banana and distribute around the top. Add the manuka honey over the banana. Serve.
4. Banana, Date and Manuka Honey Salad
To serve 4 people, use: 5 ripe bananas (peel and slice), 250g fresh dates (stoned and finely chopped), 300ml live yoghurt, 2 tblsp manuka honey
In serving bowls, arrange the bananas and dates in alternate layers and pour on the yoghurt. Refrigerate overnight (or for several hours if prepared in morning). Before serving spread 1/2 tblsp of manuka honey over top of each bowl.
Added suggestion: Sprinkle with toasted chopped nuts if desired.
5. Tossed Manuka Honey, Avocado and Banana Salad
For up to 4 servings, use: 1 avocado, 2 bananas, 1 tsp lemon juice, 2 tblsp manuka honey
Cut the avocado into bite-sized chunks, and slice the bananas. Add the lemon juice and honey, and mix well. Take care to mix gently so as not to squash the avocado or banana. Serve into bowls, or as a side to a main meal.
6. Banana and Manuka Honey Muffins
The great thing with muffins is that there are so many options or recipes available, or easy variations you can make yourself. So bananas and manuka honey make fantastic add-ins to your own recipe. Here is just one example.
Use: 150g butter, 150g plain flour, 3 eggs (approx medium), 4 tblsp manuka honey, 1 tsp baking powder, approx 150g of sliced banana (you can use more or less to your own desire)
Preheat your oven to 200 deg C (400 deg F). Melt the butter and honey together in a small pan over a low heat. Beat the eggs in a small bowl. Sieve the flour and baking powder into a large bowl. Then stir in the melted butter and honey to the flour bowl. Next stir in the eggs. Lastly add the sliced banana to the bowl, and gently fold into the mixture. Place a good sized dollop of mixture into each muffin case you have, and bake for approx 20 minutes, or until risen and golden on top. Remove from over and allow to cool.
7. Banana, Manuka Honey and Almond Bread
Like muffins, there are all sorts of slight variation on recipes available. If you're using a different recipe then you can just substitute a half of the sugar listed for manuka honey. Here almonds have been included, but could equally be used.
Use: 350g of peeled banana (preferably very ripe), 180g plain flour, 2.5 tsp baking powder, 1 tsp salt, 100g brown sugar, 2-3 tblsp manuka honey. 2 eggs (beat first), 4 tblsp butter, 50-100g of chopped almonds
Get the oven ready by preheating to 170 C, and grease and lightly flour a baking tin approx 20cm x 10cm x 10cm. In a bowl mash approx 250g of the bananas until smooth (use back of fork). Partly mash remaining banana and add together. In another bowl sift the flour, baking powder and salt. Melt the butter, and in a third large bowl add the sugar, honey and eggs to the butter and whisk (an electric whisk or blender works well). Now fold in the bananas and flour mixture, ensuring you can no longer see any flour. Finally fold in the almonds.
Pour into the baking tin and place in over for approx 1 hour. A good test to see if ready is to insert a skewer into the middle of bread and it comes out clean. Take tin out of oven to cool for 10-12 minutes, before turning out onto a cooling rack. Slice to your preferred thickness.
8. Banana and Manuka Honey Crepes
One option is to simply make crepes from your favourite recipe, then add sliced banana drizzled in manuka honey as a filling.
Option two is to add 2 very ripe bananas (mashed) into your favourite crepe mixture, and substitute and equivalent amount of manuka honey for the sugar that is normally listed as an ingredient. Then proceed to make as normal.
9. Baked Camembert with Manuka Honey, Banana and Cinnamon
Use: 250g Camembert, 1 tblsp manuka honey, 2 tblsp white wine, 1 banana (peeled and diced), cinnamon to taste, crusty bread to serve with
Have the oven preheated to 180 C. After removing any paper from the Camembert, place it in a suitably small sized oven dish (that the cheese just fits into, without too much space around the outside). Use a knife to make many cuts through the top skin of the Camembert. In a small pan gently heat the honey and white wine together - the aim being to just make the manuka honey more runny. Then pour approx 2/3 - 3/4 of the honey wine mixture over the cheese. Place the cheese into the over and bake for 7-8 minutes, until just starting to melt. Bring out of oven, add to the top the diced banana, pour over the remaining honey wine mixture, and add a sprinkle of cinnamon to taste. Return to oven for a further 2-3 minutes. Take from oven, and serve with the crusty bread to dip into the warm cheese.
10. Manuka Honey, Banana and Oatmeal Simple Homemade Face Mask
Uses: 1 tsp manuka honey, 1/2 cup cooked oatmeal, 1 egg yolk, 1/2 banana mashed
Add all ingredients to a bowl. Stir well until properly mixed together. After tying your hair out of the way (if needed) apply the mixture to your face. Leave on fro approx 15 - 20 minutes. Rinse off with cool water.
11. Manuka Honey and Banana Anti-Aging Face Mask
Uses: 1 small banana, 2 tblsp fresh double cream, 1 tblsp manuka honey, 1 tblsp potato flour, still bottled water, rosewater hydrolat
Mash the banana (use the back of a fork) in a bowl, and then add the double cream, manuka honey and potato flour. Stir to mix well. You may need to add a little more double cream, or potato flour, to obtain the desired consistency - similar to thick cream or yoghurt.
Apply the mask to your cleaned face, including the area around the eyes (being careful not to put into the eye) and neck. Leave for approx. 30 minutes. Rinse off with still bottled water, and dab on a little rosewater, then leave to dry naturally.